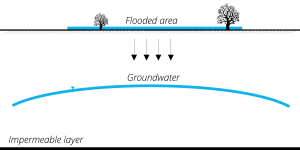 Flooding as a MAR technique is used on when excess river water is available during high flow season or when flood events need to be managed. The system uses passive infiltration delivers and spreads the recharge water whichthen infiltrate through the vadose zone to the underlying aquifer. These systems can combine many benefits such as flood protection, drought preparedness, aquifer remediation, and ecosystem restoration. However, (often highly demanded) land needs to be held available to allow for periodic flooding. Thus compensations systems need to be put into place for land owners.
| | |
| --- | --- |
| Typical system capacity scale | Household – Town (≈102m3/year – ≈106 m3/year). |
| Geology  | Unconfined aquifers composed of permeable sedimentary rocks. |
| Topography | Preferably flat or gentle sloped terrain, close to rivers. |
| Soils  | Permeable soils able to guaranty water quality standards to the target aquifer. |
| Water source | River water. |
| Pre-treatment | None. |
| MAR main objective | Agriculture.Flood Risk management. |
| Relative cost  | Low. |
Advantages and disadvantages of the system (adapted from IGRAC, 2007):
Advantages
Flood risk management as benefit.
Ecosystem enhancement.
Broad areas may be used for aquifer recharge.
Limitations
Can be applied only to unconfined aquifers.
Competition with other landuses along rivers.
Unreliable water source.
Potential of soil and aquifer pollution with nutrients and salt concentration on the soil profile.
Case studies
Further information
References
IGRAC. (2007). Artificial Recharge of Groundwater in the World.
DEMEAU. (2014). Characterization of European managed aquifer recharge (MAR) sites – Analysis.