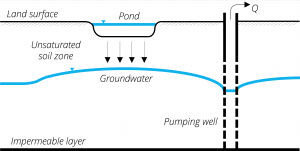 Surface spreading and specifically infiltration ponds are among the most applied MAR techniques around the world. They are based on the retention and spreading of water over a mostly flat area in order to enhance infiltration. Infiltration to the unconfined aquifer is enhanced by the construction of excavations, dikes or levees. Surface spreading and infiltration ponds are used when site surface and subsurface characteristics allow the aquifer to be recharged from ground level.
| | |
| --- | --- |
| Typical system capacity scale |  Household – Town (≈102m3/year – higher than 106m3/year). |
| Geology  | Unconfined aquifers composed of permeable sedimentary rocks and fractured crystalline rocks. |
| Topography | Flat or gently sloped terrains to enhance infiltration and reduce clogging. |
| Soils  | Permeable soils able to guaranty water quality standards of the targeted aquifer. |
| Water source | River water, stormwater, treated water, lake water. |
| Pre-treatment | Depending on water source quality, mostly to prevent clogging |
| MAR main objective | Agriculture, domestic, and industrial. |
| Relative cost | Low – Medium. |
Advantages and disadvantages of the system (adapted from IGRAC, 2007):
Advantages
Low infrastructure demand.
Infiltration of large quantities of water at relatively low cost, and maintenance.
Relatively simple anti-clogging procedures.
Pollutants contained in source water may be removed by the soil.
Limitations
Can be applied only to unconfined aquifers.
Requires large flat permeable areas.
Potential for surface water-related diseases.
Potential water pollution.
Potential evaporation (water losses).
Case studies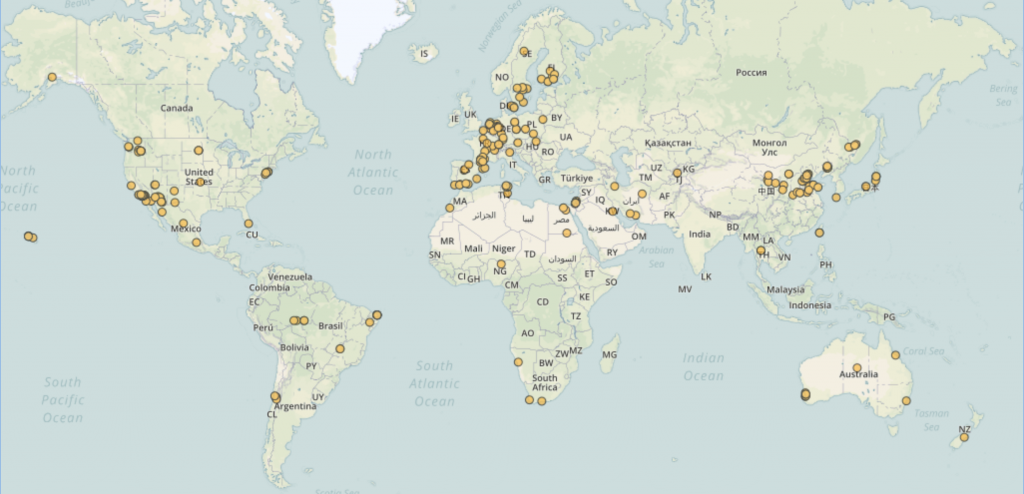 Further information
References
IGRAC. (2007). Artificial Recharge of Groundwater in the World.
DEMEAU. (2014). Characterization of European managed aquifer recharge (MAR) sites – Analysis.