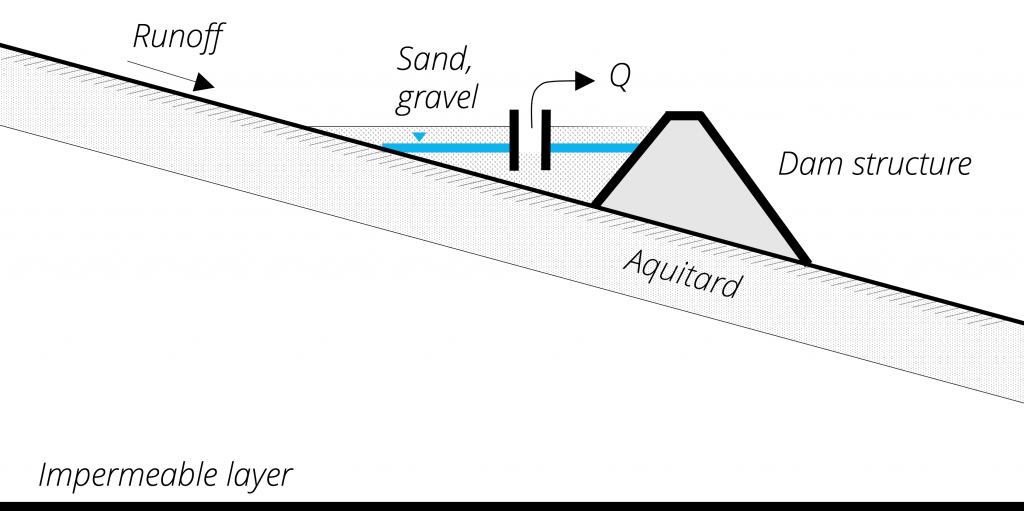 Sand dams are impounding structures constructed above ground within intermittent river channels. During rainfall events, storm water runoff will accumulate sands and gravels behind the dam structure. This creates an artificial aquifer upstream of the dam that can store the storm water runoff. The reservoirs will fill during rainfall events and store the water instead of loosing it to the catchment. Sand dams can increase water availability during dry seasons, prevent water evaporation, and protect water from contamination. They are common in sub-Saharan Africa and a viable technology for rural communities as they can be built with local materials.
| | |
| --- | --- |
| Typical system capacity scale | Village – Town (≈104 m3/year – ≈106 m3/year). |
| Geology  | Mainly crystalline rocks with sandy riverbeds. |
| Topography | Natural drainage channels with gentle slopes. |
| Soils  | Sandy riverbeds. |
| Water source | Stormwater. |
| Pre-treatment | No pretreatment is used. |
| MAR main objective | Water storage. |
| Relative cost | Low. |
Advantages and disadvantages of the system (adapted from IGRAC, 2007):
Advantages
Low costs of construction.
Low maintenance.
No interference with other land use.
Limitations
Potential ownership conflicts.
Potential for water pollution.
Relatively small infiltration rates.
Case studies
Further information
References
Sswm.info. (2017). Sand Dams and Subsurface Dams | SSWM. [online] Available at: https://www.sswm.info/content/sand-dams-and-subsurface-dams [Accessed 29 Nov. 2017].
IGRAC. (2007). Artificial Recharge of Groundwater in the World.
DEMEAU. (2014). Characterization of European managed aquifer recharge (MAR) sites – Analysis.